Original recipe by Cerises et Gourmandises
–  4 portions
A block of 240g of natural Tempehine
3 cups of broccoli florets
Vegetable oil
1 chopped clove of garlic
1/2 teaspoon smoked paprika
3 tsp. maple syrup
2 teaspoons of liquid smoke
3/4 cup kimchi, drained and chopped. *It is important to keep the liquid.
2 cups cooked brown rice
1 tbsp. salt-reduced soy sauce
1/2 teaspoon toasted sesame oil
1/2 teaspoon sambal oelek
1/4 cup pineapple cut into small pieces (optional). It adds a nice freshness to the dish.
1/4 cup fresh cilantro
Salt and pepper
Instructions:
Crispy Broccoli:
Preheat the oven to 400F.
In a bowl, mix the broccoli florets, 2 tablespoons of vegetable oil and season with salt and pepper.
Spread on a baking sheet covered with parchment paper and bake until broccoli becomes crispy, about 10-15 minutes.
Set aside
Tempeh:
Boil tempeh in water for 10 minutes.
Remove the tempeh from the water and blot well with a clean cloth.
Cut into small cubes.
In a large skillet over medium-high heat, put 1 tablespoon of vegetable oil.
Add the tempeh cubes and stir regularly until they reach a golden hue, between 5-10 minutes.
Add garlic, maple syrup, smoked paprika, liquid smoke and a pinch of salt.
Mix well and remove from pan after 3 minutes.
Place in a bowl and set aside.
Rice Sauce:
In a small bowl, mix 1 1/2 tbsp of the liquid from the kimchi with the soy sauce, toasted sesame oil and sambal oelek.
Kimchi rice with smoked tempeh 
In the same skillet, add 1 tablespoon of vegetable oil and sauté the kimchi for about 2 minutes or until lightly browned. Add the two cups of cooked rice and mix well.
Add the sauce to the rice and raise the temperature of the round. Stir constantly for 5 minutes.
Add tempeh, broccoli and pineapple pieces if desired. Mix for 2 minutes.
Just before serving, garnish with coriander.
If you have some kimchi left over, do not hesitate to add some to your dish.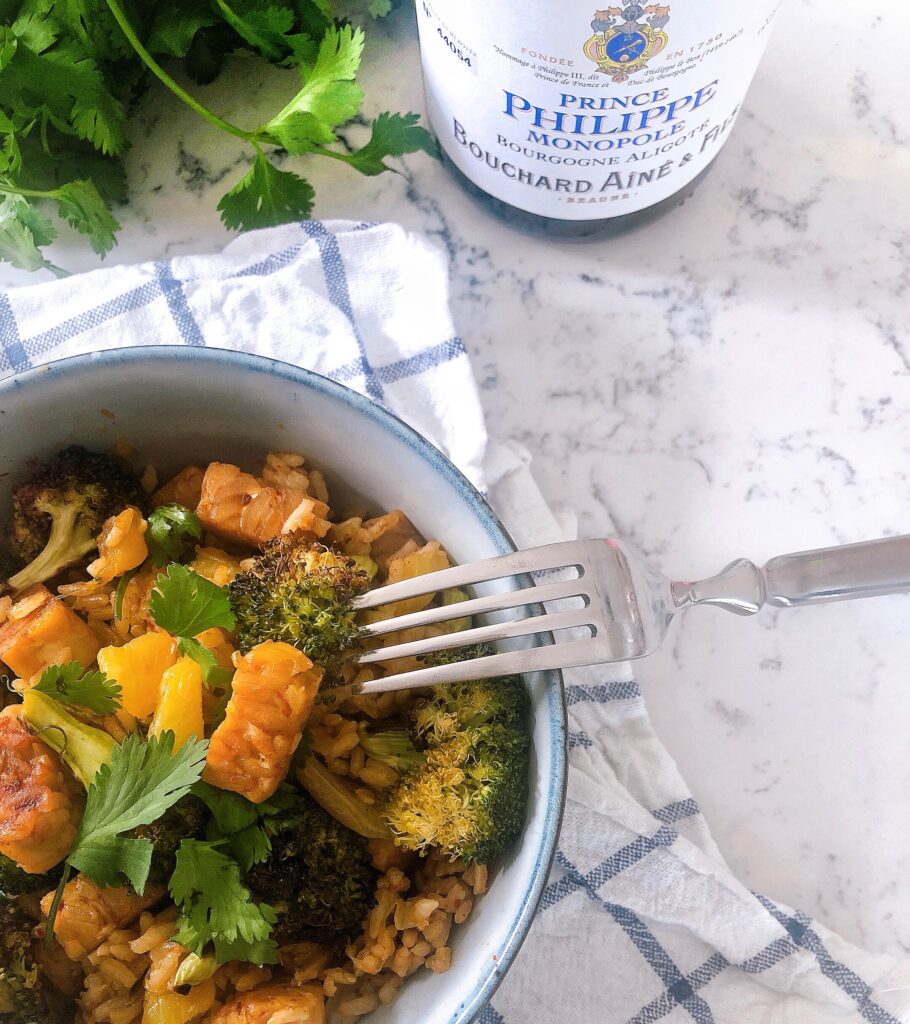 Wine pairing
To accompany my recipe, I suggest you the Bourgogne Aligoté Prince Philippe. A fresh, light wine with a good length which is ideal to accompany vegetarian dishes among others.
Bouchard Ainé & Fils Prince Philippe Bourgogne Aligoté: Code SAQ: 143628 Price: 15,90$